Welcome back to the countdown. Today we're going to talk about number two.
Heh. Number two.
2. Miguel Cabrera Walks It Off
We all know Miguel Cabrera is clutch. Whenever a big situation arises, he seems to find a way to come through. Chew on some of these numbers from Baseball Reference for a minute.
But in all reality, you don't need numbers to tell you that Miggy is not a human being. I mean, the guy took Mariano Rivera deep at Yankee Stadium to tie it up in the ninth inning… then did it again TWO DAYS LATER to give the Tigers the lead. Best part of the Mariano Rivera Farewell Tour, by far.
While this is all very impressive, perhaps nothing sums up Cabrera's clutchery than his walkoff home run against Kansas City. Take a look.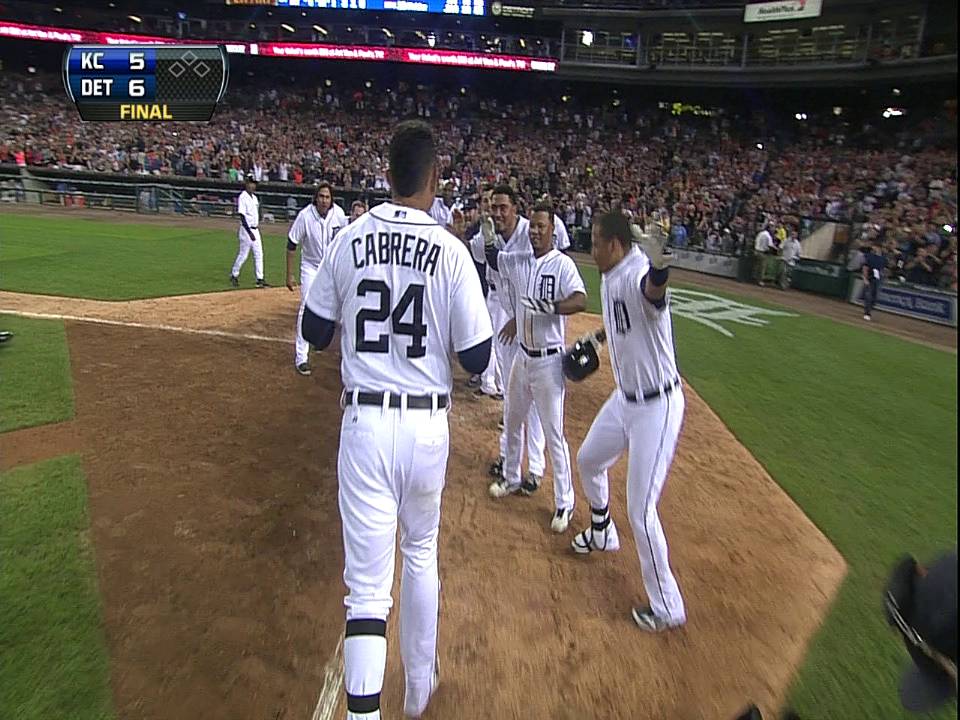 Displaced Tigers Fan: If we're being real with each other here, which we are, I have to admit that until Travis brought this moment into the conversation, I had pretty much forgotten about it. Not because it's not awesome — it very clearly is awesome – but because Miguel Cabrera did so much amazing shit that it's hard to keep track of it all.  I mean look at those numbers with two outs and runners in scoring position. Are you fist-fucking me right now with that?  I had to look at those numbers twice, since the first time I did it my brain melted inside its casing and oozed out through my face pores. After talking about this play for a while and watching this video about a dozen times, I can confidently say that this is one of the more badass things Miggy did last year. So let's set the general awesomeness of Cabrera aside and talk about this incredible moment.
Question: What is Aaron Crowe thinking? If I were an MLB pitcher and found myself in a 3-1 count against Cabrera, I'd be rolling my next pitch up to the plate. I don't care what the situation is. You have to be smart enough to know that, at that point, Miggy is just sitting back waiting for a perfect pitch to hit. Why give it to him? It never ceased to amaze me that pitchers continued to throw to Cabrera last season, and that he never got the Barry Bonds treatment that he deserved. This shot is classic Miggy — that opposite field power that so few right-handed hitters posses. I've said it before, and I'll say it again: Man I love being a turtle. But also, Miguel Cabrera is the best hitter on the planet. Period.
Travis: I was there. I was there. I was there. My wife and I were in Detroit the night Miguel Cabrera walked off the Kansas City Royals and we will never forget it. Hands down the best end to a game I've ever attended. For me, it will go down as an all-time classic; and – looking back – this game really had everything. There were lead changes, ejections, home runs, great defense, Prince Fielder getting hit in the beans, and the suicide squeeze from Number 3.
Back to Miguel Cabrera, though. Words can't even describe the level of domination we as fans saw from Cabby throughout various moments in 2013. After the third out in the Top of the 9th, the thought had started to creep into everyone's heads. It only took one look at the scoreboard, at who was due up for the Tigers. By the time Cabrera had taken Crow to a 3-1 count, everyone was on the edge of their seats. When the next pitch left Cabrera's bat it damn-near commanded everyone out of their seats as it soared past. I was sitting in the upper deck down the right field line and, I'll admit, I didn't think it was going to leave the yard; but when it did I yelled and jumped and screamed and could not believe it. We high-fived, and hugged, and said a few dozen, "holy shit!"s for good measure. People were sending me congratulatory texts just for being there. It's something I'll never forget, and it's my favorite memory from what may turn out to be Miguel Cabrera's greatest season ever.
*****
The suspense is killing me, you guys. Like, literally. We might not make it to number one, because I might die. I will have died, and will be dead. Fingers crossed!
Go Tigers.